B I O G R A P H Y
Pravo ime: Charlotte Horne
Londonski vodeci nocni club The Gallery je jos ranije spazio njen talenat, izabravsi je za njihovog nedeljnog DJ rezidenta pre vise od sest godina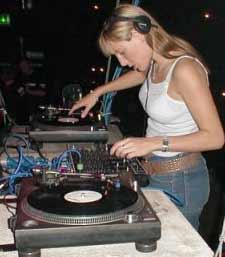 (Tall Paul je izglasao za njegovog omiljenog DJ-a), sto je danas napredovalo u njenu rezidenciju u londonskom Calling-u sa Danny Rampling-om. Lottie takodje redovno nastupa u UK clubovima Leeds, Sugar u Limingtonu, Boutique (razlicitim sedistima), The Bomb u Notingemu, Slam u Glazgovu, The Ministry of Sound (razlicitim zemljama), Passion u Kolvilu i Shindig u Njukaslu. Lottie ponosno nosi titulu "Bugged Out`s first lady", sto je dovelo u rezidenciju.
I pored zauzetog rasporeda u UK, imala je seriju internacionalnih nastupa ukljucujuci Manumissions, Subliminal (u Majamiju, Njujorku i na Ibizi), Space i Pacha na Ibizi, plus gostovanja u Venecueli, Italiji, Monte Karlu, Irskoj, Svajcarskoj, Moskvi, Kanadi, Brazilu, Grckoj, Malti i Izraelu. U drugoj polovini 2000. je promovisala svoj CD "7 Live" u Las Vegasu, Cikagu, St. Luisu, Singapuru, Sidneju, Brizbenu, Pertu i Melburnu. U 2001. ce vise nastupati u Americi, a plus jos jedna turneja po Australiji je predvidjena za jul i jedna po Aziji krajem godine.
Lottie se takodje moze naci i kao co-host Missdemeanours-a sa Caroline Prothero iz Virgin Records - ovo je fenomenalno uspesan nedeljni nocni klub u The End (poznat i kao londonski Covent Garden) - nocni klub koji je privukao elitne goste kao sto su DJ Sneak, Cassius, Erick Morillo, Todd Terry i Deep Dish. Buduci da se nedavno pojavio i na naslovnoj strani martovskog Time Out`s 25 Best Bar Joint-a, Missdemeanours takodje ima i svoj live radio show preko The Ministry live webcast-a. Lottie takodje pamti i brojna gostovanja na Radio One i Kiss FM.
Ono u cemu Lottie blista kao DJ jeste njena kvalitetna muzika i

njena upornost u pustanju samo proper house-a. Kod Lottie na prvom mestu je muzika, a na drugom imidz. Pustajuci deep i tribal, do tvrdjeg i techy house-a sa dodatim disco i funky zvukom od UK i americkih izdavackih kuca; ona je besprekorni DJ. Ulazak u svet televizije i hostovanja je bio neminovni korak i ponude su stizale u neogranicenim kolicinama 2000, ukljucujuci i razlicita gostovanja na TV programima, kao i njen najveci doprinos kao host MTV-ja za Homelands... ne ukljucujuci DJ-ing u jednoj od dve arene i prezentaciju VIP sobe!
Mozda najveci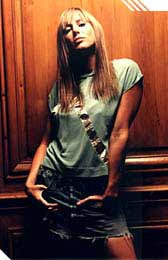 vrhunac u njenoj karijeri do danas, Lottie je izdala svoj prvi mixovani CD, koji je izasao 31. jula 2000. kao drugi instalment serije "7 Live". CD joj je dao potpunu muzicku slobodu, omogucavajuci Lottie da producira mix kompilacije po svom izboru i stilu, fokusirajuci svoj ukus na deep house; dok je 7 Magazine opisao kao "muzicki prozdrljivac deep i dirty 'proper' house muzike".
Konacno, njen rad nadopunjuju produkcije sopstvenih kompozicija ukljucujuci "The Sound" za Duty Free Recordings i "The Yob" sa Trade DJ Malcolm Duffy-jem za Remote. Zatim "Relax" od Robbie Rivera-e i Lottie-nu omiljenu pesmu "Happy Days" za Defected, koja je izasla u junu `99. Tokom 2000. zavrsila je remix Junior Cartier-ovog "Women Beat Their Men" ponovo zajedno sa partnerom produkcije Malcolm-om Duffy-jem. Pred kraj godine zavrsila je remix "Walk Of Life" od Billie za Innocent Records i njen drugi solo singl "Bushroot" (za Duty Free Recordings) koji je izasao u decembru.
Ove godine je uradila remix "Mountains" od Meeker-a za Darren Emerson-ovu diskografsku kucu Underwater koji je izasao u februaru i "Salsoul Nugget" od M&S za FFRR. Njen cetvrti remix Desert-ovog "Lettin` Ya Mind Go" za Futuregroove/Mute Records je predvidjen za kraj ove godine.
Selected discography:
Lottie 'The Sound' (Duty Free Recordings 12)
Various '7 Live #2: Lottie' (DMC LP)
Lottie 'Bushroot' (Duty Free Recordings 12)
Various 'Lottie - Snapshot' (React LP)
Top Ten svih vremena
1. Nu Colours - 'Desire' (Maw Dub 3)
A classic, emotive song with beautiful production from Masters At Work. I always sing along.
2. Grace Jones 'Pull up to the Bumper'
Stylish 80s funk. One for the holidays in Ibiza or Miami.
3. Hardrive - "Never Forget"
This has been my last record on my DJ set for quite a while now. Another Masters At Work gem.
4. Prince 'Erotic City'
There's loads of Prince records I love but this one has to be my favourite. Can still be played in discos today.
5. Photon Inc.- 'Generate Power'
A real acid house builder that will never go out of fashion.
6. Madonna 'Vogue'
You all know it. You all love it.
7. Kings of Tomorrow 'Finally'
The most recent in my top 10 but is so well written it's bound to be played for years to come.
8. Prince 'Pop Life'
Reminds me of being a teenager - love the lyrics, love the sounds.
9. Sisiter Sledge - "Lost In Music"
One for the girls. Get those high heels on and shake that ass!
10. Those Guys - "Love Love Love"
Beautiful and subtle piece of music from the Basement Boys. Amazing drums and a harp thrown in for good measure.
---
www.happynovisad.co.yu